---
Merchandise exports earnings down7.4% to US$ 961.2mn
Apparel exports down 0.55%, tea 10% and rubber-based products 13%
Total services exports earnings estimated at US 437.5mn, up 26%
SL's export earnings remained flat in 2019 recording mere 0.4% growth
Sri Lanka's export income increased marginally by 0.96 percent year-on-year (YoY) to US$ 1398.7 million in January 2020, according to Customs provisional data, as merchandise exports fell 7.4 percent YoY to US$ 961.2 million.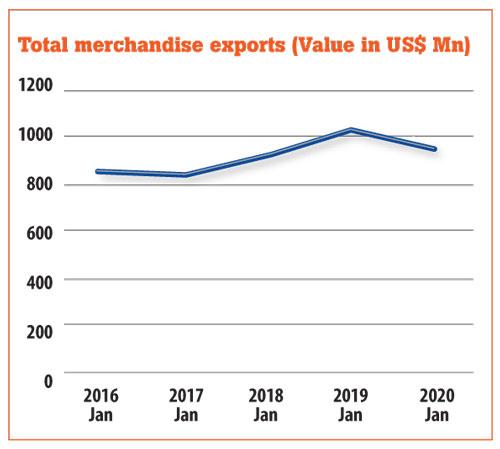 Apparel exports for the month fell 0.5 percent YoY to US$ 472.07 million while tea exports fell 10 percent YoY To US$ 99.7 million. Rubber-based exports also fell 13 percent YoY to US$ 73 million.

Export of coconut & coconut based products (US$ 49mn), diamonds, gems & jewellery (US$ 28mn), fruits (US$ 4 mn), industrial & surgical gloves (US$ 20mn), areca nuts (US$ 5mn) and betel leaves (US$ 2 mn) recorded increased earnings for the month.

Also earnings from cinnamon, pepper, cloves and essential oil exports fell to US$ 13 million, US$ 2 million, US$ 1 million and US$ 1 million respectively.

Total services exports earnings for January are estimated to have grown by 26 percent YoY to US 437.5 million.

The main export destinations in January were United States of America (US$ 268 mn) followed by United Kingdom (US$ 85 mn), India (US$ 63 mn), Germany (US$ 52 mn), Italy (US$ 46 mn), Belgium (US$ 30 mn) and Netherlands (US$ 23 mn).

The top markets for tea exports in January were Russia (US$ 12mn), Turkey (US$ 12mn), Iran (US$ 7mn), Iraq (US$ 9mn) and Saudi Arabia (US$ 5mn).
"It is notable to record that out of the top 10 export destinations only three markets namely Italy, China and Bangladesh recorded a year-on-year growth whilst the other markets had not performed well.

"Over 53 percent of the merchandise exports have moved to top five markets namely US, UK, India, Italy and Germany whilst only 47 percent of goods moved to the rest of the markets globally," Export Development Board (EDB) said in a statement.

"The export turnover increase in January 2020 is indeed positive. However the significant drop in merchandise exports along with a significant drop in rubber and tea our key export items are a serious concern," EDB Chairman Prabhash Subasinghe said.

Sri Lanka's export earnings remained flat in 2019, as the country was able to increase its export income by mere 0.4 percent to US$ 11.9 billion, compared to the previous year, according to recently released data by the Central Bank.

Sri Lanka's export basket hasn't changed for a long time and apparel accounts for about 45 percent of the country's merchandise exports.

Sri Lanka's imports picked up in December 2019, first time since October 2018, perhaps responding to the government's economic stimulus announced in November.