---
Hemas Holdings PLC reported positive performance for the quarter ended March 31, 2019 (4Q19), although its consumer businesses could not escape from the lacklustre sentiments, the interim financial accounts released to the Colombo Stock Exchange showed.

The group reported revenues of Rs.16.1 billion for the three months under review, up 6.8 percent year-on-year (YoY), while operating profit rose 5.4 percent YoY to Rs.1.4 billion.
Hemas share ended 90 cents or 1.30 percent lower at Rs.68.10 yesterday.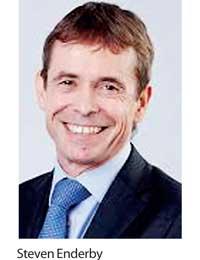 On social media, Hemas recently came under heavy flak by various quarters for allegedly favouring one community over others due to its strong links to the Esufally family, its promoters.
The company vehemently denied allegations as baseless and its Group CEO Steven Enderby stated that he was, "proud to play a leadership role in (which) is a secular, performance, ethics and value driven organisation".

"We are trying to help those directly impacted and are also taking steps to ensure the safety of our staff and business. We applaud the hard work of the security forces in their efforts to ensure the safety and security of all. We are committed to serving all Sri Lankans well," Enderby said in statement accompanying the interim results.

Hemas has interests in fast moving consumer goods, healthcare and pharmaceuticals, leisure, logistics and technology.

While all of its business verticals escaped unscathed from the weak consumer and business sentiments, barring its consumer business, the group worries over the impact that has befallen on them in the aftermath of the Easter carnage.

The group reported earnings of Rs.1.45 a share or Rs.863 million for the January-March period compared to 98 cents or Rs.585.3 million reported for the corresponding period in 2018.
Hemas' consumer business incurred a loss of Rs.70 million for the quarter despite the top line recording a 10 percent YoY growth.

"Profitability during 4Q was challenging due to duty increases coupled with currency devaluations impacting the price of raw materials. Marketing and trade spends were higher in the quarter as we invested behind the line-up of re-launches brought to market during late 3Q," Enderby said.
Meanwhile, for the year ended March 31, 2019 (FY19), Hemas reported earnings of Rs.5.65 a share or Rs.3.37 billion in total profits on a revenue of Rs.64.1 billion, each up 25.4 percent and 28.5 percent YoY, respectively.

Enderby stated that the acquisition of Atlas and additional one-off gains from the disposal of its Southern hospital, fair-value adjustments and unrealised exchange losses impacted the operating profit of the year.

"We continue to work hard to mitigate the impact of the terrible events of Easter Sunday on the business. The immediate direct effect has been on the tourism sector. Our teams are reviewing every cost to see how we can reduce losses from the decline in tourist arrivals.

During 2018/19 our leisure and travel interests generated 3.0 percent of group earnings. We are also concerned about the impact of the terrorist events and communal unrest on domestic consumer demand," Enderby added.

Slightly over 60 percent stake in Hemas Holdings is held by a consortium of investment firms linked to the group's promoters.