---
Production capacity to increase to nearly 1,000,000 pieces a month, from 250,000 units now
To be one of world's largest bra manufacturers with duty free access to US, EU, Canada, China
World's largest intimate brands – Calvin Klein, Warners, Vanity Fair to be anchor customers
Hela Clothing, by acquiring a 50 percent stake in Sumbiri Intimates Apparel PLC from Indonesian owner Sumber Bintang Rejeki, has formed a new joint venture in East Africa to manufacture bra and intimate products out of the Hawassa Industrial Park in Southern Ethiopia.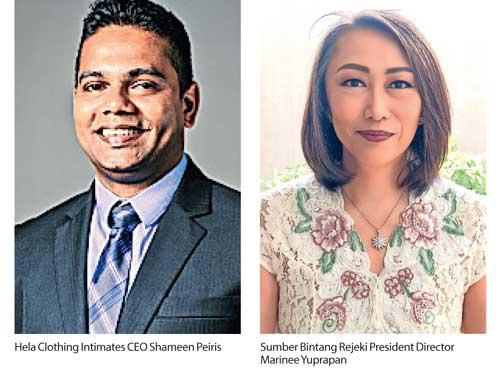 The joint operation, which at full scale will employ over 3,000 people in Hawassa, Ethiopia, will increase its capacity to produce close to 1,000,000 pieces a month, from 250,000 units currently.

This will make it one of the largest bra manufacturing facilities in the world with duty free access to the US, EU, Canada and most parts of developed Asia, including China. The equal partnership joint venture will result in the formation of a new company, Sumbiri Hela Intimates PLC.

Speaking about the new venture Sumber Bintang Rejeki President Director Marinee Yuprapan said, "We are excited to be partnering with Hela Clothing and expect it to mark a new chapter for our business in the region. Hela's expertise in manufacturing in Africa, coupled with our knowledge and expertise of the category, forms the foundation of a strong collaboration that will be mutually beneficial at a time when the world is on the cusp of great change.

The current upheaval in the industry means that brands are looking for agile suppliers that can meet their expectations in terms of quality, pricing, speed and reliability. We believe that we can exceed these requirements with this latest venture and make it the basis for long-term growth," she added.

The over 100,000 square foot plant will represent Hela's first foray into bra manufacturing and has already lined up the world's largest intimate brands – PVH-owned Calvin Klein and Warners as well as Berkshire Hathaway-owned Vanity Fair – as its anchor customers.

"This new plant will represent growth opportunities for us at a time when global brands are re-evaluating their supply chains and looking to mitigate future risk through geographical diversification," said Hela Clothing Intimates Division CEO Shameen Peiris.
"We are proud to be working with Sumber Bintang Rejeki on this. Their expertise and deep knowledge of the segment make them invaluable strategic partners to us."

"For Hela this partnership represents the next step in our journey. We believe collaboration can be an important component of creating value for our customers and be a major driver of innovation. Hence, this venture will give us the opportunity to explore more product offerings and innovative solutions to help better serve our customers."

Sumber Bintang Rejeki was established in Indonesia in 1985 by founder Michael Lee and forms part of Sumbiri Group of Companies, including Winnersumbiri, a warp and circular knit factory located in Indonesia. Sumber Bintang Rejeki has grown from strength to strength to become a one-stop solution provider for women's underwear, lingerie and accessories with shapewear as its strongest product segment. The company has three factories in Indonesia, Myanmar and Ethiopia, as well as long-standing relationships with global brands.

Hela Clothing is a US $ 200 million company that provides sustainability-focused apparel supply chain solutions. The company works closely with global brands, from design to delivery, in the intimate, sleepwear and children's product ranges. With nine factories across three countries and a workforce of over 15,000 across the globe, Hela leads the industry in ethical and sustainable working environments.