---
The government plans to provide immediate debt relief to the struggling small and medium-sized enterprises (SMEs), microfinance borrowers and to the borrowers in the agricultural sector.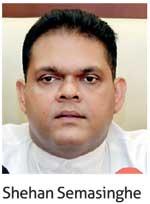 Prime Minister Mahinda Rajapaksa, last week, meeting with the banking heads and Central Bank officials had requested the banks to submit a report on their financial viability to facilitate the future investments and to grant debt relief to the country's struggling businesses.

"In particular, we have asked for a report as to how we can provide relief to SMEs. The CRIB has blacklisted some SMEs and as a result, they now face the risk of losing their properties.
Once we receive the requested reports from the banks, we will take immediate measures to provide relief to these SMEs," MP Shehan Semasinghe said assuming his duties as Development Banks and Loan Schemes State Minister, yesterday. He noted that the relief would be granted within a week after receiving the relevant report from
the banking sector.

Further, he revealed that measures would also be taken to cut microfinance loans as well as other types of loans, including agricultural loans, as pledged in President Gotabaya Rajapaksa's election manifesto.

Semasinghe vowed to take measures to grant justice for the depositors of bankrupt finance firms, while initiating legal action against these finance firms and their owners who have misled the depositors.