---
Currently Fonterra Sri Lanka's General Manager of Marketing, Vidya Sivaraja was recently appointed Managing Director of the Malaysia and Singapore business, effective 1stFebruary 2018.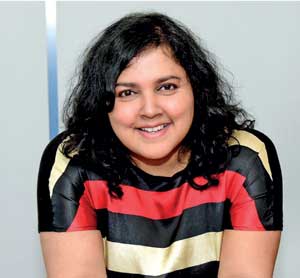 It is the first time a Sri Lankan has led one of the global dairy co-operative's country markets.
Sunil Sethi, Managing Director of Fonterra Brands Sri Lanka and the Indian Sub-Continent said, "Our people are our biggest asset and we want to grow with them as they grow their careers. Vidyais a strong leader with a proven track record. Her story is areflection of the unique opportunities available to inspiring leaders to take on challenging and interesting work across the globe.

"I am proud of Vidya and know that the Malaysia and Singapore business will greatly benefit from the different perspectives she will bring. We wish her the very best in her new role."

Commenting on her new role, Vidya said, "The opportunity is incredibly exciting and I am honoured to step up to the challenge. I am looking forward to working with the fantastic team of people we have in both markets to unleash the energy in our business, strengthen our brands' leadership positions and develop high quality dairy solutions to delight our consumers."

Vidya began her career at Fonterra in 2004 as a Group Brand manager and drove the growth of thelocal dairy business under the Anchor Newdale brand.

In 2007 she was given the opportunity to work on a regional role in Singapore. This experience, Vidya says, made her appreciate the common ground diverse teams had despite different geographies, cultures and ways of working.

"My time in the regional team made me learn how to motivate and unite diverse teams. Gaining abetter understanding of local nuancesand the commonalities across markets helped me develop communication with global and local relevance. Global exposure helps you realise how resilient and innovative you can be, making you think and do things differently to get results."

In 2010 Vidya returned to Sri Lanka as Marketing Director. She took on another challenge and role with the global team in 2013 as Category Director - adding to her experience across 14 markets. Vidya returned to Sri Lanka to head the marketing role for Sri Lanka in addition to developing brands and consumer opportunities for Fonterra's operations across the Indian subcontinent.

Vidya's international career path and leadership roles have made her an obvious role model and mentor to other women in the co-op, and her emphasis on performance and people has made a mark on the Sri Lankan business.

"A core part of leadership is about building diversity to harness different perspectives, providing a strong sense of ownership and passion through clarity of purpose and fostering a contagious 'can do' attitude," she says.

In building her marketing team, she actively sought non-core marketing people to source new thinking, searching for personality and attitude over age, experience, gender and qualifications on paper. "Each person has their own strength but everybody needs to come together to do extraordinary things.

"I don't believe in hierarchy and title. We have brilliant interns who are just as likely to have a truthful insight and fresh perspective on global trends or what people think. I'm proud to see the team I've built, with their diverse strengths and personalities, growing as leaders in their own right whilst delivering results."