---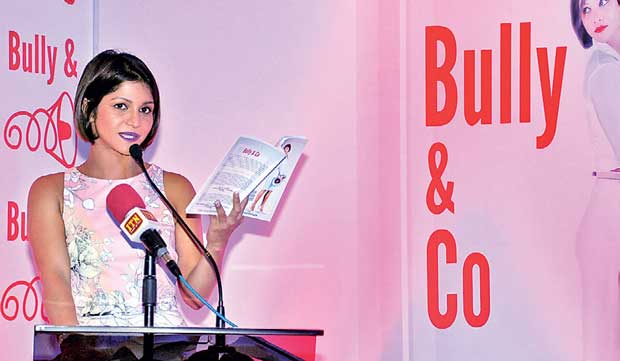 Corporate professional Fiona Nanayakkara
Pic by Nisal Baduge
By Zahara Zuhair
As a step to provide guidance on how to face harassment in the work place, corporate professional Fiona Nanayakkara launched a self-help book called Bully & Co, recently.
The book focuses on three distinct areas, which are: the impact of workplace harassment on employees as well as organisations, seven examples of bullying in the Sri Lankan corporate world and coping strategies and mechanisms.
The book expects to help to identify bullying and provide with strategies to survive in the job, if necessary, take action.
Nanayakkara said that what motivated her to write this book was her wanting to make society more aware of harassment and how this impacts the modern workforce and workplace culture.
Sharing her experiences from a decade in the Sri Lankan corporate world, she reveals in her book on how bullies intimate and dim the spirits of colleagues and employees alike.
She said that she initially began her research to support the writing of her own experiences in the book but it led her to discovering shocking statistics of workplace harassment, nearly 50 percent globally and as high as 75 percent in the USA.
"The more I researched during the time taken to write Bully & Co, I learnt so much more about the practical tools that can be used to cope with harassment. I knew instantly that this would be my giveback to society," she said.
As bullying can have a huge impact on the productivity of the workforce and the company, in her book, she suggests that there are so many mechanisms for handling such situations.
"The main thing is that we identify when we are being harassed and take the situation from there. Otherwise, at most time you either give up on your career development or get influenced to be a bad employee," she says
in her book.
She describes bullies as skilled 'people readers' and makes it their task to understand someone's flaws to determine what techniques can be used against them. Some even go a step further and mask their bullying behind a charming and nice demeanour and even a noble cause.
She also notes that bullies often get promotions and in addition to promoting their own image, bullies are good at tearing down others without appearing to do so.
"They do this by subtly pointing out your flaws and mistakes in contrast with their own dazzling performance," she said.
"Many bullies are instinctive and smart chameleons, able to deceive senior executives into perceiving them as outstanding. They are strategic and manipulative thinkers, concerned with their own self-interest over those of the team," she said in her book.
Nanayakkara has pledged to use all proceeds from the sales of Bully & Co toward creating awareness of the issue and promoting open discussion on the topic among corporate entities.
The book will be available for direct purchase via amazon.com, wow.lk and in Sarasavi bookshops islandwide in all three languages.