---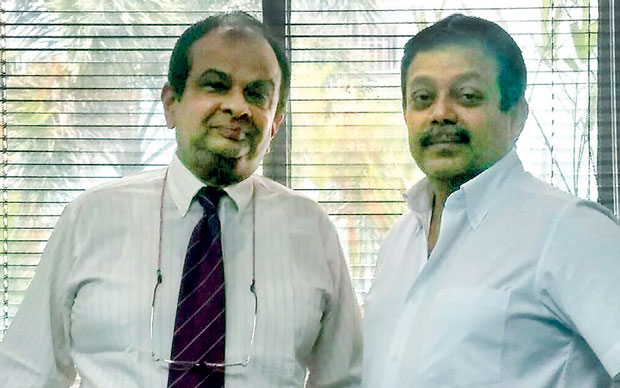 From left: Equity Investments Lanka Ltd Chief Executive Officer H. Peiris and Managing Director Dinal Peiris
Equity Investments Lanka Limited (Equill), a venture capital and investment company, is actively looking for investment opportunities in the form of risk capital in small and medium sized businesses.
Equill views the high level of economic activity and growth in healthcare, education, tourism, manufacturing products for the local and overseas markets, construction sector related products, and other industrial and service sectors as positive signs for entrepreneurs and companies in the small and medium sector to venture out with new projects and business ideas as ideal opportunities to assist/partner in order to convert them into successful businesses.

Incorporated in the year 1990, Equill is one of the pioneering venture capital companies to be set up in Sri Lanka. Some of Equill's previous investments include Hayleys MGT Knitting Mills, Royal Ceramics, Access Engineering, Saman Villas, Vidullanka and Softlogic Holdings. Several of these companies have now grown to be listed in the Colombo Stock Exchange. The current Board of Directors of Equill comprises of well known names in Sri Lanka's business sector and includes M. J. C. Amarasuriya (Chairman), S. E. Captain, J. D. Peiris, J. B. Abu Baker, W. I. Arambage, L. A. Rajapakse (alternate to W. I. Arambage), H. A. Peiris and K. C. Vignarajah.

"As a long standing venture capital and investment company of repute, in addition to providing risk capital to entrepreneurs and small/mid-sized companies, Equill and its team of experienced business consultants provide assistance in the areas of business advice, market studies, financial evaluation of business ideas, and jointly help refine the idea to create a workable business plan" said Equill Managing Director Dinal Peiris.

Once a project is accepted for venture capital investment, at the outset of the investment Equill will enter into an agreement with the entrepreneurs/project promoters on how to divest the investment either by selling the equity back to the major shareholder or by way of an Initial Public Offering (IPO).
Setting up of institutions/formalized tutories, kindergartens and montessories, and crèches are some of the areas that Equill is interested in supporting in the education sector while setting up of channeling centers, testing laboratories especially in the suburban and outstations, elders retirements homes, institutions providing specialized nursing care are some of the areas in the health sector. Providing goods and services to the ever-growing foreign visitors to the country, restaurants, hostels and other forms of accommodation are some of the areas of interest in the tourism sector while supply of aggregates (bricks, cement, sand), other materials and services are some of the areas of interest for the construction sector.