---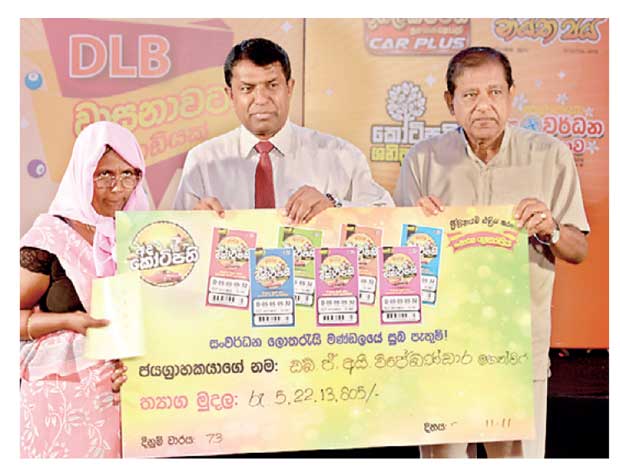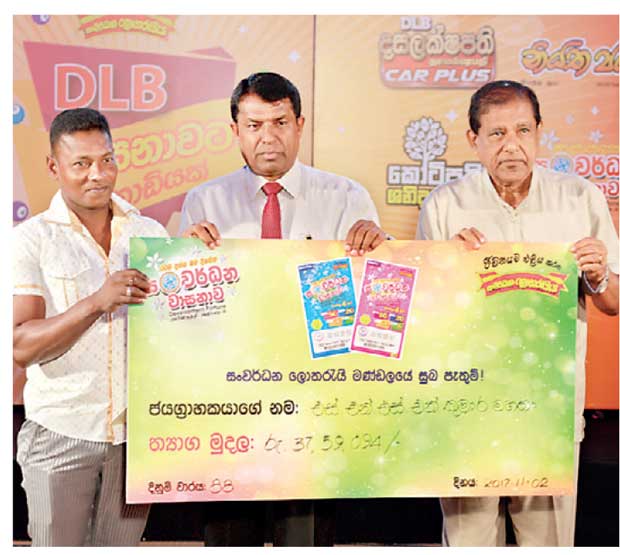 Marking again a golden age of its history, the Development Lotteries Board (DLB) enjoys the pleasure of making the highest number of winners from the beginning of this month as well as in the previous month.

Accordingly, the DLB, whilst keeping further its unbeaten record as the presenter of the highest number cash prizes, could increase the number of super winners and winners of the previous month, making another batch of millionaires, including a cash prize winner of Rs.3.7 million.

Accordingly, the cash prizes were awarded to the winners by DLB Chairman A.S.P. Suriyapperuma with the participation of Working Director H.R. Wimalasiri and General Manager J.M. Jayasinghe recently, at the auditorium of the DLB.

At this occasion, the super jackpot of Rs.5,22,13,805 of the 073th draw of 'Ada Kotipathi' was awarded to W.I.G. Wijebandara from Hingurakgoda and in the meantime, a cash prize was awarded also to A.K.S. Malkanthi, the sales agent of Kotte, who has sold the winning ticket.

The super jackpot of Rs.37,59,094 of the 088th draw of 'Sanwardana Wasana' was awarded to S.N.S.N. Kumara from Chilaw and a cash prize was awarded also to P.V.D.D. Appuhami of the same area, who has sold the winning ticket.

In addition to these jackpots, there was a winner of Rs.2 million and Rs.1 million, each was presented to 13 other prize winners of DLB lotteries such as 'Laagna Wasana', 'Niyatha Jaya', 'Ada Kotipathi', 'Shanida Wasana', 'Jayoda', 'Kotipathi Shanida' and Super Ball.

The DLB, enjoying the pleasure for making millionaires and awarding cash prizes, reminded that its expectation is to enhance the lives of the people of the country, making future winners. Therefore, the DLB invites you to try your luck with the DLB lottery tickets.