---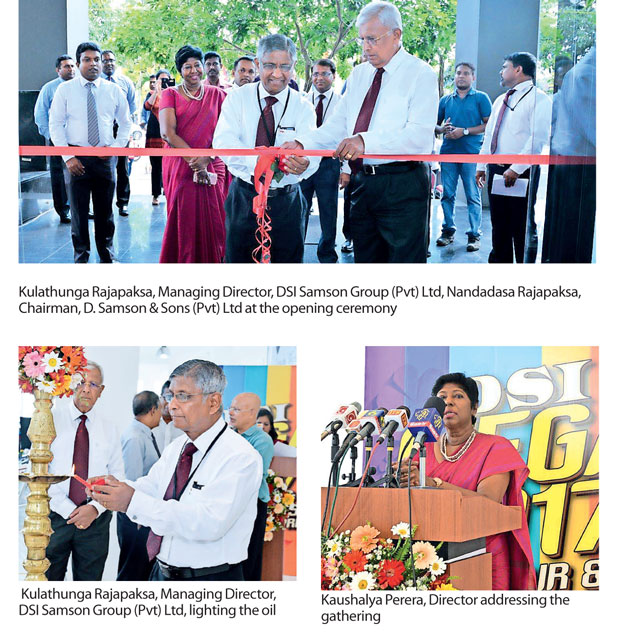 The ultimate shopping festival, the DSI Mega 2017, was declared open on the 1st of April.
Happening at the head office complex of D. Samson and Sons (Pvt) Ltd, at High Level Road, Maharagama, the shopping festival offers something for everyone in the spirit of the impending New Year. Organized for the second time, the Shopping festival is open to the public, with no required entrance fee.
Present at the event as chief guest was Nandadasa Rajapaksa, the Chairman of D. Samson & Sons (Pvt) Ltd, along with Kulathunga Rajapaksa, the Managing Director of the DSI Group and Kaushalya Perera, the Director of D. Samson & Sons (Pvt) Ltd and members of the organization's
senior management.
The shopping festival begins at 9 am and will take place between the 1st and 9th of April. The purpose of the Shopping festival is to provide customers with a convenient means by which they can do all their 'avurudu' shopping in one place for the most reasonable prices.
As a prime commercial and shopping center in Maharagama , the complex offers ample free parking facilities while the festival's stalls feature, shoes, accessories, apparel, electric appliances, mobile phones (as well as related accessories), books and stationary items, opticians, motorbikes, mountain bikes, food & beverage items and financial services, all of which are available at lesser prices,
special discounts.
DSI invites all shopping enthusiasts to visit the shopping festival and join in the excitement.