---
The Colombo Stock Exchange (CSE) is expected to sign a memorandum of understanding (MoU) with London Stock Exchange (LSE) shortly, to explore the possibilities of dual listing of Sri Lankan government's foreign currency denominated debt.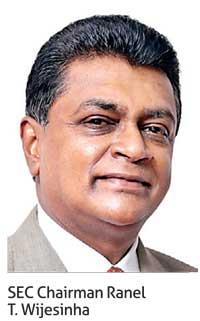 Sri Lanka last Friday sold US $ 2.4 billion in five-year and 10-year US dollar-denominated bonds. A media statement from the Securities and Exchange Commission (SEC) yesterday said the bonds are expected to be listed on the LSE for the first time in addition to them being listed on the Singapore Stock Exchange as per the long-standing practices.

"We are firm in our belief that the capital market in Sri Lanka should lend itself to facilitate the country's initiatives to raise funds, while at the same time leveraging the opportunities for the CSE to expand the depth, breadth, size and composition of equity and debt listings.

Now that ISB 2019 will be listed on the LSE, future issuances have the potential to be traded on the CSE," SEC Chairman Ranel T. Wijesinha said.

Sri Lanka has been working closely with the LSE, which acquired Sri Lanka-based MillenniumIT a decade ago, to promote the country's capital market among global investors.

"The CSE has taken initial steps to sign a MoU between the two exchanges which may provide for future issuances of this nature to be traded in London and Sri Lanka. This is another market segment that is starting to take shape.

We believe that this initiative will enable Sri Lanka to be positioned competitively in the Asian region as a potential financial hub due to the possible alliance with LSE," CSE Chairman Ray Abeywardena said.

Meanwhile, Wijesinha said with the recently approved Multi Currency Board, the CSE can now actively pursue foreign currency denominated listings, and the first of which is likely to be from the Maldives.

He also stressed on the need to list selected State-Owned Enterprises (SOEs) suffering from capital adequacy issues.