---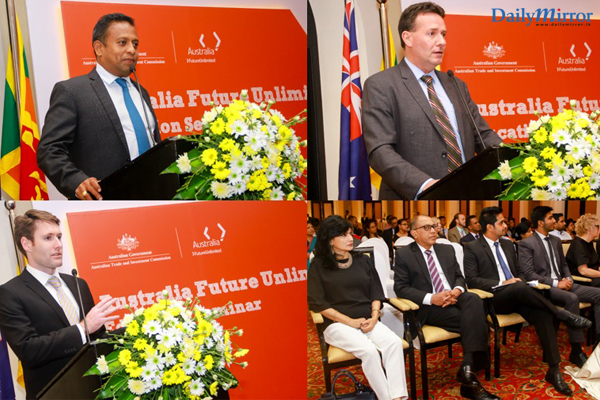 Hon. Minister Chandima Weerakkody, Minister for Skills and Vocational Training. Mr. Bryce Hutchesson, Australian High Commissioner to Sri Lanka. Mr. Peter Coleman, Trade Commissioner, Austrade
For the 7th consecutive year, The Australia Future Unlimited – the Education Seminar (AFUES) an Austrade initiative was successfully held on 8th September 2017 with a distinguish Delegation featuring 16 renowned Australian Education Providers.
Featured with three main Events including Seminars & Networking Reception, the Event highlighted the quality and expertise of the Australian Education & training sector to Prospective Students, Parents & Institutions which Sri Lanka has experienced a significant growth of 36% until June 2017.
Event created a great platform for the Advanced Level Students representing International schools in Sri Lanka who are the potential candidates to purse higher education in Australian – to engage with the Delegates whilst the School Principles & Councilors also had the great opportunity in engaging with the Delegates.
Led by Hon. Minister Chandima Weerakkody, Minister for Skills & Vocational Training in Sri Lanka, a networking reception was organised for the Key Education Sector Stakeholders such as Student Recruiting Agents, Higher Education Institutions & leading Corporates in Sri Lanka to meet with the Delegates.
The occasion was also graced by Australian High Commissioner to Sri Lanka, Mr. Bryce Hutchesson, Trade Commissioner, Mr. Peter Coleman, representatives of DIBP & other distinguish guests from several sectors.