---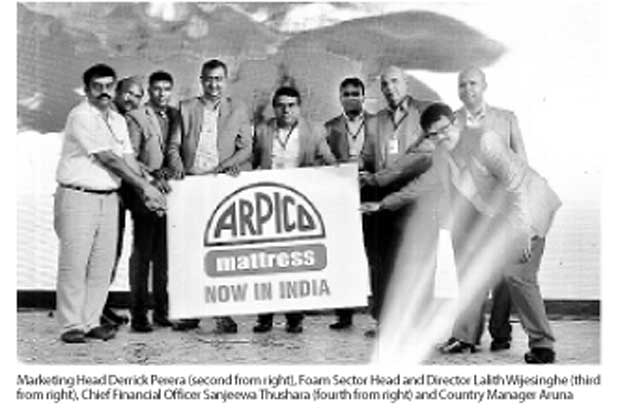 Arpico mattresses, Sri Lanka's pioneer and leader in mattress manufacturing, recently extended its operations to the international market by launching the Arpico Mattress range in India.

As the preliminary step in this pursuit, the product range was introduced to Southern India through the company's distribution partner Nawa Consortium. The launch of the mattresses took place at Furniture Cluster Meet 2017, held in Selam and was attended by over 300 key dealers from the Indian furniture sector.

Expressing his thoughts on the launch of Arpico Mattresses in South India, Richard Pieris and Company PLC Foam Sector Head and Director Lalith Wijesinghe said, "Arpico Mattresses has always placed emphasis on the comfort and the contours of its products. The advanced technology used in the production process of Arpico mattresses and their strength of manufacturing, which the company has maintained over time, have helped augment the product quality over the years and thereby helped us achieve the success we have with the product today."

"It is with much pride that we announce the launch of Arpico mattresses in the South Indian market. Additionally, we are also happy to note that we will be expanding and strengthening the presence of the brand throughout India in the months to come," he added.

Arpico Furniture, the country's pioneering foam mattress manufacturer, offers users a variety of mattresses ranging from foam mattresses to spring and natural latex mattresses along with other products such as foam sheet, pillows and cushions. Furthermore, the mattresses are specially designed to support the body and posture with the right amount of firmness and extra comfort for a good night's sleep.

"Over time, we have seen an increasing number of consumers who value and connect a good night's rest with good health. They understand that getting quality rest has invaluable health benefits. To cater to this segment we have introduced a range of specialty mattresses such as the Natural Latex Foam Spring Mattress, which is a five zone pocket spring mattress made of natural latex foam, Pillow Top Spring Mattress with individually nested springs, which ensures that partners sleep undisturbed by each other and the Spine Rest Mattress, which consists of a high-density-bonded layer to support your spine position perfectly, to name a few," said Country Manager Aruna Kumarawaduge.