---
The show apartment of Blue Mountain Apartments' latest real estate development, Achilleion had an overwhelming response ever since it was opened for presales. The first-ever seven-star luxury apartment building in Sri Lanka is set to make a lasting mark on Colombo's skyline and will feature all-new levels of luxury and innovation.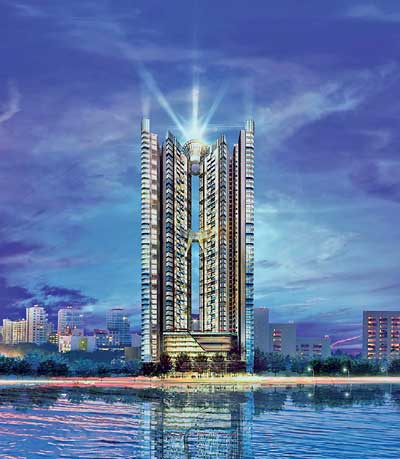 Due to the increased number of visitors to the show apartment, the Achilleion team has extended the visiting times for the show apartment till midnight during weekends.
The breath-taking view of the Indian Ocean and the vibrant Marine Drive stretch have already attracted a record number of visitors to the show apartment during the extended visiting hours. During weekdays the show apartment will be open for visits from 8:00 a.m. to 8:00 p.m.
Achilleion has won three awards including the best 'Luxury Show Apartment' at the prestigious Asia Pacific Property Awards 2016/2017. The iconic design and structure of the development is being supported by the global real estate titan Palmer & Turner Group Singapore and is heralded as the No. 2 ranked residential developer in the world.
The complex's plush interiors are also being curated by Index Design, a leading interior design practise also based in Singapore. With an investment of Rs.300 million, Achilleion's show apartment, which is at 100 feet above seas level, is the world's tallest stand-alone show apartment.
Due to the massive response after the launch during its first weeks, Achilleion team advises those interested to reserve personalised tours prior to visiting the site or visit its website for any further information.
The apartments will also feature state-of-the-art technology including a helipad, three swimming pools, a sky observation bridge, as well as fitness and business centres. Residents will also have access to a fleet of five Mercedes Benz luxury cars, comfortable lounges, libraries, a cinema, spa and a 24-hour medical centre.
Blue Mountain Apartments focuses on delivering innovation and modern design that adhere to the highest standards of construction and safety in the industry. The company has a proven track record and is supported by a highly qualified team who operate from 16 branches across the island.
Renowned as one of the country's most reliable real estate companies, the Blue Mountain Group has diversified operations that extend across the areas of land sales, apartment developments and construction.