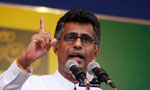 Champika RanawakaThe Jathika Hela Urumaya (JHU) said yesterday that they would not hesitate to send home those who were trying to scuttle political reforms just as they sent one president home.
JHU general secretary, Minister Patali Champika Ranawaka said they would not allow any constitutional changes to be made which could be detrimental to the unitary state and security of the country.
Mr. Ranawaka said they were of the opinion that the excessive powers of the executive presidency should be pruned rather than completely abolished, so that the stability of the country and its security would be ensured.
"President Maithripala Sirisena did not promise in his manifesto to scrap the executive presidency. He clearly stated that he would not change anything that could not be changed without a referendum," he said.
Mr. Ranawaka said so at a meeting held at the New Town Hall. He called on Mr. Sirisena to keep the promises he had made prior to the election, and urged him to discard the preferential voting system.
Mr. Ranawaka said the proposals of the party leaders had not been considered when the 19th Amendment to the Constitution was presented to the Cabinet.
"We objected to the draft bill presented to Cabinet by the prime minister on March 13 for two reasons: the agreement of the party leaders had not been included in it and the prime minister wanted to gazette it on that day itself," he said.
He alleged that the 19th Amendment to the constitution had been gazetted without regard for the proposals of the party leaders on constitutional reforms made on March 15.
He said the proposals of the party leaders should be accepted -- not the proposals of the conspirators -- and added that such conspiracies should be defeated.
Mr. Ranawaka said that the changes to executive presidential system and the establishment of independent commissions alone were insufficient, and that the electoral system, too, should be changed.
"We should listen to people rather than political parties or organisations when amending the electoral system. The victorious party should get the majority in parliament and minor parties such as the JHU, JVP and TNA should also get due representation in the new electoral system," he said.
He said Mahinda Rajapaksa was defeated by himself and that the SLFP was not diminished by his defeat.
"The SLFP should become a new party under a new leader and discard the corrupt politicians; otherwise it will have to be in Opposition for 20 years like it was from 1977," he said.
JHU chairman the Ven Athuraliye Rathana Thera said the new constitution would have grave consequences for the country and that they were completely opposed to it.
He said, if constitutional reforms were to be introduced, the electoral system should also be changed at the same time.
(Ajith Siriwardana)
WATCH