---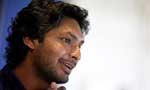 Sri Lankan cricketing icon Kumar Sangakkara said yesterday he was surprised by President Maithripala Sirisena's invitation to take up a diplomatic posting as Sri Lanka's High Commissioner to Britain.
He said he would discuss it with the President before taking a decision.
"It is a surprise, I have to think about it and discuss it with the President," Mr. Sangakkara told the media afterwards.
The President extended this open invitation at the felicitation ceremony held at the P. Saravanamuttu Stadium at the conclusion of the second test match against India.
He retired from test cricket after this match.
"You have brought great honour to Sri Lanka," the President said and thanked him for his contribution to the country.