---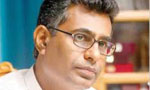 The petrol and diesel levies will be annulled after the January 8, 2015 under the government of Maithripala Sirisena, said Jathika Hela Urumaya (JHU) General Secretary and former minister Champika Ranawaka.

"Being a compassionate president, Mahinda Rajapaksa levies of Rs.52 on one litre of petrol and Rs.17 on one litre of diesel from the people," he said.
People will gain lots of relief after the levy is removed, he said.