---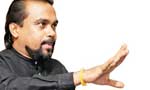 President Maithripala Sirisena should not appoint the Opposition Leader but it should be based on the consent of the majority of opposition MPs so that the opposition could function in a proper manner, National Freedom Front (NFF) Leader Wimal Weerawansa said today.
He told the media that if the President appointed a parliamentarian of his choice to the post of Opposition Leader, it would be the beginning of President Sirisena acting as a dictator.
"People accused former president Mahinda Rajapaksa of acting as a dictator even though he did not meddle in the affairs of the opposition. I ask the 'Purawesi Balaya' members to give me a name to call the current leader. The President should not decide the role of the Opposition in the Parliament. It is ridiculous for him to appoint the prime minister, the ministers, the opposition leader and the chief opposition whip. Where is the much-hyped democracy in the 'Yahapalana' government?" Mr. Weerawansa asked.
(Piyumi Fonseka)