---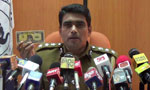 A suspect had been arrested in Muttur by the Police Terrorism Investigation Division (TID) while trying to exchange a USD 1 mn bill for Rs.15 million recently, Police Spokesman SSP Ajith Rohana said.
The Police Spokesman said that the so called one million bills had not monetary value and asked people to be wary of such claims.
The suspect was remanded and the police investigations revealed the suspect was a resident from Muttur.
Four suspects had been arrested earlier with the similar currency note dealings.
The Police Department said it had verified with the Embassy of the United States and the Central Bank and had found that such currency notes had no inherent monetary value in them.
The Police said the currency notes were printed and issued as souvenirs and could not be used for financial purposes. SSP Rohana said that it had been clearly printed on the currency notes that they have no monetary value.
He said similar incidents had been reported from in Colombo and in Trincomalee and asked the general public to be vigilant of such currency notes. (Chaturanga Pradeep)
WATCH