---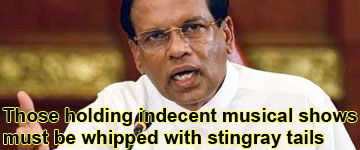 President Maithripala Sirisena said that he would not allow concerts where Sri Lankan culture and morals are destroyed by foreign artistes and those holding indecent musical shows must be whipped with stingray tails.

Speaking at an event held at the Ampara D.S. Senanayake National School today, the President said the organisers of such indecent events should be punished for bringing artistes, who destroy Sri Lanka's proud culture.

"Hereafter, approval would not be granted for such events. In such events which are limited for some few hours with tickets worth Rs. 35, 000, the majority of the youth gets drunk and behaves in an indecent manner. Some women under the influence of alcohol throw their brassieres at the artistes or get on stage and kiss them. I would like to emphasize that such indecent concerts should not be given approval to be held in Sri Lanka again," he said.