---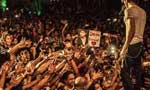 Live Events Ltd which organised the controversial Enrique Iglesias concert, and is facing an allegation of non-payment of entertainment taxes and are yet to produce the documents pertaining to the printing and sales of the tickets, had assured to provide all details to the Colombo Municipal Council within four days, sources close to Colombo Mayor A. J. M. Muzammil said yesterday.
They said the company officials had given this assurance to the Mayor when they met him for a discussion last morning.
According to them the Mayor had asked for all details pertaining to the number of tickets it had printed for the show and the number of tickets sold. The Mayor had actually told the company that negotiations had to be fair and that the company would have to make the outstanding payment without delay. Accordingly he had told the company officials to produce all details so that there won't be any room for default.
It was reported that the Mayor had also told the company officials to hand over the details to Municipal Commissioner and the Treasurer.
Sources said three directors of the company and a lawyer represented yesterday's discussions.
(Yohan Perera)