---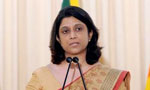 The Ministry of Foreign Affairs (MFA) today announced the appointment of new ambassadors for five countries - France, Afghanistan, Bangladesh, Kuwait and Seychelles.
According to the Ministry, A.L.T. Najimudeen has been appointed to Afghanistan, Yasoja Gunasekara to Bangladesh, Thilak Ranaviraja to France, Kandeepan Balasubramaniam to Kuwait and Tikiri Herath Gunathilake to Seychelles.
Speaking at a media briefing, MFA Spokesperson Mahishini Colonne said the appointees would soon commence duties as Parliament has given the approval for the new appointments.
(Piyumi Fonseka)