---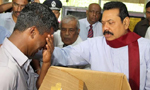 President Mahinda Rajapaksa today instructed officials to pay special attention to the children who had lost their parents as unscrupulous elements would come forward claiming to be their parents with ulterior motives as witnessed during the tsunami.

"The children who had lost their parents must be given safe shelter at an easily inspected public place or placed in the care of relevant state institutions to take responsibility for their well being until they are later handed over to relatives who could take care of them," he said.

The President observed the landslide affected Haldumulla area this morning from a helicopter and met the displaced taking refuge at the Koslanda Tamil School and Punagala School.
He ordered to remove the huge earth mound that had buried nearly 200 people and 63 houses following the earth slip on Wednesday at only after the National Building Research Organization (NBRO) inspected the site and gave the green light to go ahead.

President Rajapaksa responding to a request from the people to remove the earth and rocks brought down by the earth slip said if they were removed in a haphazard manner, there was a possibility of causing further slides.

During a discussion with officials, President Rajapaksa instructed them to provide safe alternative lands immediately to displaced persons and prepare a special programme to ensure the protection of children who had lost their parents due to the tragedy. (Sandun A. Jayasekera)