---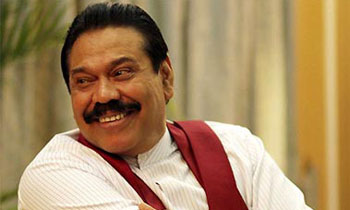 While urging all SLFP and UPFA MPs to oppose the proposed 20th Amendment on the provincial council (PC) elections, former president Mahinda Rajapaksa said today they would take this matter up in the Supreme Court.
In a statement, Mr. Rajapaksa said all members of the SLFP in the government were elected to Parliament through an election campaign led by him.
"I wish to remind them that they were not elected to Parliament to help the UNP to dismantle democracy in this country. The SLFP and UPFA MPs should oppose any law brought to postpone the PC elections and to extend the terms of the existing provincial councils without an election," he said and added that the SLFP/UPFA group in Parliament can deprive the government of the two-thirds majority needed to pass the latest Amendment because it impinges on the people's sovereignty and their franchise.
"We will be petitioning the Supreme Court in this regard. But the SLFP/UPFA parliamentarians acting together can block this in the legislature. They are duty bound to do so to safeguard the rights of the people. If the need is to hold all the PC elections on the same day, the government can bring forward the elections to all Provincial Councils to 2017, instead of postponing the elections till 2019," Mr. Rajapaksa said.
If passed into law, he said the 20th Amendment would allow not only the postponement of all PC elections, but also the extension of the terms of all existing PCs up to September 2019 in a direct violation of the franchise and the sovereignty of the people.
"This is the latest in a long list of attacks against democracy perpetrated by this government which came into power through a conspiracy aided by interested foreign parties on January 8, 2015," Mr. Rajapaksa said.
Meanwhile, he said though the 2015 presidential election had been fought on the platform of abolishing the executive presidency, the 19thAmendment to the constitution was a farce perpetrated on the people and the executive presidency still remains unchanged.
Mr. Rajapaksa said executive power was being misused by the government not just to hold on to power, but also to sell strategic national assets to foreigners without consulting the people or even parliament.
He said the Constitutional Council which is appointed by the government and parliamentary opposition together, was also made up entirely of people who had been on the same side at the 2015 Presidential election.
"This resulted in the independent commissions and important offices of the state being filled with yamapalana sympathisers. There has never been such a perversion of democracy in this country under any previous government. Even though the yamapalana government won only 106 seats at the 2015 parliamentary election, this has increased to a two thirds majority due to UPFA parliamentarians accepting ministerial portfolios," he said.