---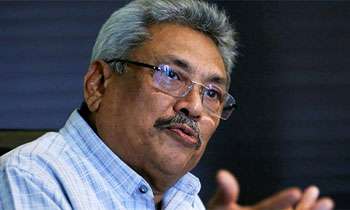 While reiterating that local and foreign elements attempted to drive a wedge between the Rajapaksa government and the Muslims, former Defence Secretary Gotabhaya Rajapaksa said that he agrees that they could have done certain things differently without leaving room for opportunists.
He expressed these views during an Iftar Ceremony organized by the National Muslim Collective, which was held at the Galle Face Hotel in Colombo on Friday.
Mr. Rajapaksa said these efforts, to create a wedge between the Muslim Community and the Rajapaksa government, were done in an organized manner.
"The lies that were spread within the community and actions that were instigated to cause unfortunate incidents led to a perception that the Muslim community has a cause to be wary of the Rajapaksa administration. This is very far from the truth. However, those Muslim leaders who work closely with me and the former government, know very well that we took great care to uphold the security and dignity of the Muslim people under very sensitive circumstances," he said.
He said the false impression created by the lies and orchestrated incidents was so strong, that they were unable to convince many in the Muslim community about the sincerity of their actions.
"This was a trust deficit that contributed to the unfortunate defeat of President Mahinda Rajapaksa in 2015 and halted the rapid progress Sri Lanka was making. However, that is the past. Soon, we may have another opportunity to continue that journey of progress. We have engaged in continuous dialogue with religious leaders and the elders of the Muslim community and will continue to discuss the issues that trouble you, the fears that you have and the measures that can be taken to resolve them," Mr. Rajapaksa said.
He said the intention of the Rajapaksa Government was always to create a nation where Sinhalese, Muslims, Tamils and people from every community in this country can get on with their lives, knowing that they are safe. "If we can all come together once again, I am sure we will be able to achieve this. That will be to the lasting benefit of all Sri Lankans living in this country today and for all our future generations. It is something I hope, we can all work towards," he told the Iftar gathering.(Lahiru Pothmulla)