---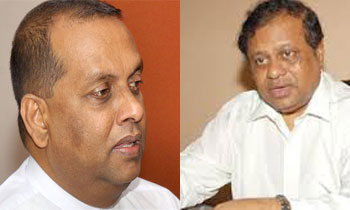 The United People's Freedom Alliance (UPFA) requested President Maithripala Sirisena today to take steps to appoint a new Prime Minister who can muster the majority support in Parliament.
UPFA MP Sports Minister Dayasiri Jayasekara told Daily Mirror yesterday that party Secretary Fisheries Minister Mahinda Amaraweera and Sri Lanka Freedom Party (SLFP) National Organizer Science and Technology Minister Susil Premajayantha had made this request from the President in writing.
Mr. Jayasekara also revealed that the UPFA had decided to propose the name of Transport Minister Nimal Siripala de Silva for the post of Prime Minister.
The letter says, "The UNP and the SLFP agreed to form the national unity government only for two years. That period has now lapsed. During this period, UNP leader Prime Minister Ranil Wickremesinghe oversaw subjects such as constitution making, foreign affairs, judicial matters, economic matters and law and order. Though it was difficult for us to agree to some decisions taken by the Prime Minister, we adhered to them as we were collectively bound. Instead of taking action against corruption and fraud as discussed during the election, it is not a secret that a major fraud, namely the Central Bank bond scam, took place with the knowledge of the Prime Minister."
The two ministers wrote that people gave a verdict against the government for going against the norms and principles of good governance.
They said it was unacceptable to allow the Prime Minister to continue to rule the country given the extremely small mandate received by his party at the recently concluded LG polls.
Video by Sanjeewa and RM