---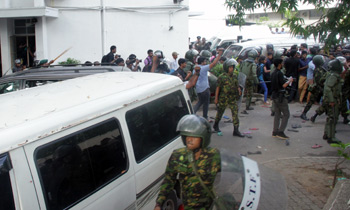 Two more university students were arrested last night in connection with the forcible entry to Health Ministry in Maradana and damaging public property during the protest against South Asian Institute of Technology and Medicine (SAITM) last week.
Police said, a 24-year-old Dinesh Maduranga, a student of University of the Visual and Performing Arts was arrested in Siyambalanduwa while a 22-year-old Dimuthu Lakshan, a member of Inter University Students Federation (IUSF) was arrested in Katana.
They are residents of Dombagahawela and Katana.
Police said the students would be produced before the Siyambalanduwa and Maligakanda courts on charges of forcible entry, damaging public property, engaging in anti-government activities and taking part in illegal campaign.