---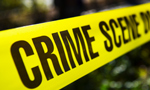 Two bodies of a male and female believed to be that of a husband (54) and wife (46) were found hanging on a tree this morning, a day after their two sons drowned at Kalkudah, Trincomalee.
The victims were residents of Kalkudah.
Police said the brothers, aged 18 and 21, had gone missing, while they were bathing at the Kalkudah beach on Sunday.
They said they suspected that the death of two sons might have led the parents to committed suicide.