---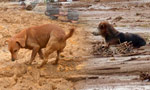 Another loyal dog that was looking for its owners was captured by cameras at the landslide site in Samassarakanda hill in Aranayake.

In video footage, the dog was barking in a grieved voice and for its owner's family members.
However, our reporters said later, the dog was able to recognize its owners who were re-located at a camp in Aranayake.

Another emotional story about a loyal dog that appeared to be looking for its master after the deadly landslide in Samassarakanda hill in Aranayake went viral on the Internet yesterday. It was later reported that the dog had finally found its master at a temporarily built hut in Aranayake.

These two incidents demonstrate why dogs are such loyal companions to humans.
The last scene of the video shows the overjoyed dog running towards its master on recognizing him.
Video by Saman Vijaya Hemmathagama