---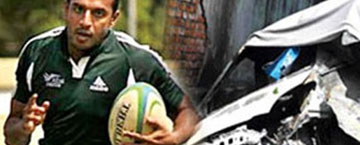 Secretary of the Ministry of Health, Nutrition and indigenous Medicine, Anura Jayawickrama, today informed court that according to the inquiry conducted by the Ministry the former Chief Judicial Medical Officer Ananda Samarasekara had acted irresponsibly, while conducting the first autopsy on Wasim Thajudeen's body by not taking appropriate steps to protect body parts.
According to the inquiry conducted by the Emergency Raids Unit of the Ministry, the Secretary confirmed that the former JMO was responsible for the missing body parts.
The inquiry was carried out upon a court order over the body parts of Wasim Thajudeen that had gone missing after the first autopsy.
Thajudeen was murdered on May 17, 2012 under the disguise of a fatal road accident.
The Secretary informed Colombo Additional Magistrate Nishantha Peiris that the former JMO had retired officially from his position in June 2013 and continued to serve as the JMO until the appointment of current JMO Ajith Tennakoon, therefore to direct the CID to carry further legal actions against Mr. Samarasekara. (Shehan Chamika Silva)