---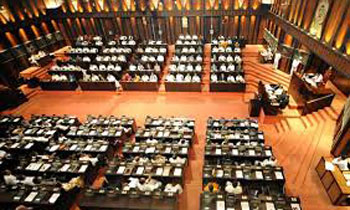 The Government today presented a supplementary estimate seeking parliamentary approval for an expenditure of Rs.169.8 million for foreign travel by several ministries.
Approval was sought to spend Rs.148,100,000 for foreign travel and training by the Department of Inland Revenue; Rs.8 million by the Fisheries Ministry; Rs.1.3 million by the Foreign Employment Ministry; Rs.3.07 million by the Science and Technology Ministry; Rs.5 million by the Finance and Media Ministry; Rs.1.018 million by the Buddha Sasana Ministry and Rs.269,000 by the National Co-existence and National Languages Ministry.
Approval was also sought for an expenditure of Rs.27 million to enhance the Bribery Commission; Rs.700,000 for the Protocol Office in Parliament and Rs.30 million to construct a monument in memory of the late Ven. Maduluwawe Sobitha Thera.
The Government also sought approval to spend more than Rs.2 billion for disaster relief and Rs.2.5 million to acquire monitoring equipment for the Department of Meteorology.
Approval was also sought for Rs.66,040,000 in lieu of rents and rates for the building where the Ministry of Agriculture was located. (Yohan Perera and Ajith Siriwardana)