---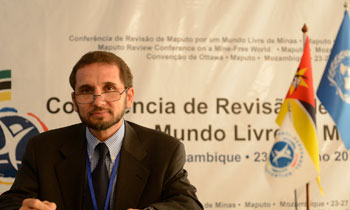 Prince Mired Raad Zeid Al-Hussein, the Special Envoy on the Anti-Personnel Mine Ban Convention would undertake an official visit to Sri Lanka from March 4 to 7, the government today said.
In a statement, it said the Special Envoy's visit takes place in the wake of Sri Lanka becoming the 163rd State Party to the Anti-Personnel Mine Ban Convention, which is also known as the Ottawa Treaty, having deposited the Instrument of Accession in December 2017.
During his visit, Prince Mired is scheduled to call on President Maithripala Sirisena and Prime Minister Ranil Wickremesinghe.
He would also meet with Defence Ministry Secretary, Resettlement Ministry Secretary, Army Commander and officials in-charge of mine-clearance.
The visit also includes a field visit to a mine-clearance site in Muhamalai, Jaffna on March 6.
The Government said Sri Lanka's accession to the Ottawa Treaty has been hailed by the international community as a positive development, and it has immensely contributed towards building a positive image of Sri Lanka in the international arena.