---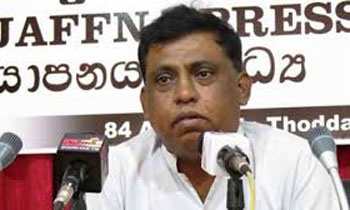 TNA Provincial Councillor M. K. Shivajilingam told the UNHRC in Geneva since Field Marshal Sarath Fonseka- the then army commander- had admitted to the Sri Lankan Army committing war crimes, an investigation should be launched through an international court to probe the charges.
Addressing the UN Human Rights Council sessions in Geneva on Friday, Mr. Shivajilingam said Mr. Fonseka had stressed that he was in possession of evidence that 30 army personnel including former army commander Jagath Jayasuriya had committed war crimes and violated human rights.
He had also said the Tamil people had no faith in the government of Sri Lanka.
"We can't expect solutions to the Tamil peoples plights from the Sri Lankan government. No solution had been given to the ethnic problem of the northern and eastern Tamils, which led to the war. The government deceives the Tamils and the international community," he said.
He said the Tamil population in the North and the East contributed immensely to the victory of President Maithripala Sirisena but the plight of Tamil people remained unchanged.
Mr. Shivajilingam said, two days after Mr. Fonseka admitting to having evidence that army personnel had committed war crimes, President Sirisena had said he won't allow an international probe against military personnel.
"This is the current status of Sri Lanka. No solution can be expected to the plights of Tamil people from the government. Therefore, we request the UN, UNHRC and the international to intervene to establish an international court to deliver justice," he said. (Siraj Hashim)