---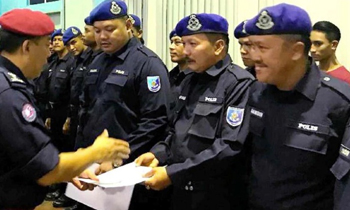 Malaysian security and enforcement personnel will undergo sea combat training in Sri Lanka to strengthen and upgrade their skills in maritime security control, the New Straits Times reported.
Eastern Sabah Security Command (Esscom) commander Datuk Hazani Ghazali said the training would be conducted next year with Sri Lanka's security forces.
Dubbed Sea Combat Course, the training is aimed at equipping the Esscom team with added skills.
"The expertises of the Sri Lankans in safeguarding their waters are recognised worldwide," he told reporters at the Esscom monthly gathering @ the police marine base here, today.
Hazani said about 20 personnel from three agencies – police, armed forces, and the Malaysian Maritime Enforcement Agency - would participate in the intensive training.
On another development, he said Esscom would establish a control post on Pulau Ligitan off Tawau in an effort to intensify security in the area, adding that the post would be managed by three security agencies.
"The island is located at the border of Malaysian waters hence it is exposed to neighbouring Indonesia and the Philippines. The waters are usually used as a route by immigrants to enter the state.
"The post will also be able to prevent elements that can jeopardise the security of the Eastern Sabah Safety Zone from slipping into the country," he stressed.
During the monthly gathering, 140 security personnel led by Hazani took the corruption-free pledge while witnessed by Lahad Datu Malaysian Anti-Corruption Commission chief Wan Kamal Noor Izwan Wan Kamaruddin.