---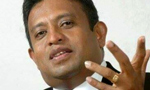 Sri Lanka Freedom Party (SLFP) said yesterday the Valued Added Tax (Amendment) Bill was redrafted well in consultation with it, and therefore it had no reason to oppose it in Parliament.
The government has redrafted the VAT Bill to be enacted in Parliament.
SLFP Vice President Petroleum and Petroleum Gas Minister Chandima Weerakkodi told Daily Mirror the government excluded services such as diagnostic tests, OPD charges from VAT based on proposals by the SLFP.
The Minister said the government also increased the threshold for VAT liability on retail and wholesale trade from Rs. 12 million to Rs.50 million as the SLFP proposed.
"Therefore, we have no reason to oppose the VAT bill in the present form. We submitted our views at the respective Cabinet meetings," he said.
The government is planning to present the Bill in the House this week. It has the required majority to pass it comfortably. The VAT rate is slated to be increased to 15 percent from the current 12 percent in this exercise.
Meanwhile, the Joint Opposition and the Janatha Vimukthi Peramuna (JVP) have already raised objections to the VAT bill. (Kelum Bandara)