---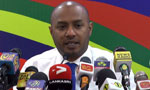 Condemning the assault on Sri Lanka's High Commissioner to Malaysia Ibrahim Ansar at the Kuala Lumpur International Airport (KLIA) on Monday, the SLFP acting General Secretary Duminda Dissanayake also condemned the protests that were held against former President Mahinda Rajapaksa in Malaysia.
Addressing a media briefing at the Sri Lanka Freedom Party (SLFP) head quarters yesterday the Minister said that they opposed anyone, who made statements in foreign countries against Sri Lanka or Sri Lankans.
"Mahinda Rajapaksa was the person who won the civil war," he said.
"Mahinda Rajapaksa was the only person who gave this freedom from the deadly LTTE. That was why now people of different nationalities can live in peacefully," he said.
Meanwhile, the SLFP Spokesman and Minister Dilan Perera said, there were people left in the world, who called themselves as LTTEers. They are not real LTTEers but they are foxes in guise of tigers. As a country we should be very careful to not to create racialism in the country again. In Sri Lanka also we could find foxes in the guise of lions.
"I think Mahinda Rajapaksa will recognise the real lions and foxes in the country," he said. (Chaturanga Pradeep)