---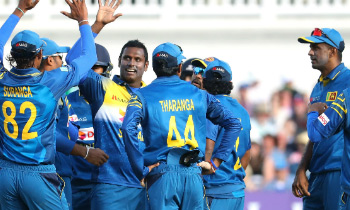 Within hours after the official announcement of Graham Ford's resignation, Sri Lanka Cricket (SLC) is talking with three different coaches to finalise any one of them to be the Head Coach.
This was revealed by the President of SLC Thilanga Sumathipala yesterday.
The post is now vacant following Graham Ford stepping down 15 months working with the team, though his contract was till the 2019 World Cup.
"We are talking to three others", Sumathipala, said speaking over telephone.
For obvious reasons, he did not name them, but admitted, "Chandika Hathurusinghe is not available. Gurusinha wants Hathuru but he is not available".
Sumathipala also made it clear that the captain or any senior members of the team will have no say in the selection of the coach. "They will not be consulted".
Apparently, no direct approach to Hathuru, who is attached with the Bangladesh side is made yet.
umathipala also defended the decision to bring Asanka Gurusinha from Australia. Ford is believed to have had expressed his displeasure over Asanka's involvement with the team.
However, Sumathipala said, "Asanka Gurusinha is not a coach. He is in charge of the team, coordinating with the support staff, selectors, players, High Performance and SLC Board. He was brought in (from Australia) because we want a winning team", he further added.
So, If everything goes according to the new plan, both teams-Sri Lanka and India- may have a new coach for the home series commencing in Sri Lanka next month.(Bipin Dani)