---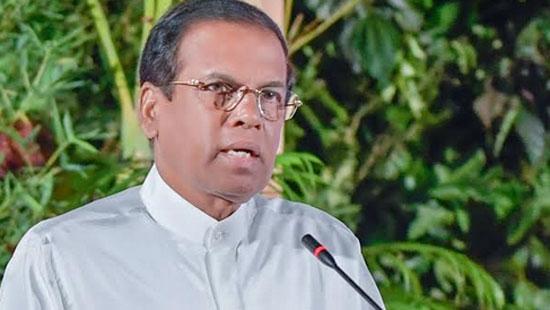 Sri Lanka is rapidly moving to integrate renewable energy such as solar, wind, wave and biogas to our energy mix to minimise oil and coal use, President Maithripala Sirisena said.
Speaking today at the 4th Session of the United Nations Environment Assembly (UNEA4) in Nairobi, Kenya, the President said Sri Lanka has taken several ground-level smart initiatives for policy formulation and implementation toward greening under the government's "Blue-Green" approach covering both land and ocean.
The National Policy on Urban Air Quality Management ensures clean air for a healthy nation or the 'Clean Air 2025 Action Plan.' Oil-based transport and power sectors have been identified as the main source of emissions, therefore, importation of vehicles was restricted to EURO IV standards, the President said.
The President said that Sri Lanka has initiated in co-sponsoring 4 resolutions for UNEA4, along with other partnering countries on; Conservation of Mangroves, Marine Litter and Micro-plastics, Solid Waste Management, and Food Losses and Waste.
"I am pleased to state that Sri Lanka is the first country in the South Asian region to prepare a sustainable consumption and production policy, with the assistance of SWITCH-ASIA Policy Support Initiative, he emphasised. President Sirisena said the biggest challenge faced by the farmers in Sri Lanka was the uncertain climatic conditions.
"Agriculture is the main source of livelihood for people living in the rural areas of Sri Lanka and it has much potential for greening and to be climate smart. We like to see sustainable consumption and production and science and technology are applied in our agriculture," he said.
He said that development of agriculture would not only help to strengthen the financial position of the rural farmers and various others involved in the process, but also that of the country as a whole.
We have taken steps to minimise unsustainable and destructive fishing practices that are damaging to coral and several initiatives are being taken in line with Marine Environment Pollution Control Strategy 2030.
Demonstrating Sri Lanka's commitment towards achieving the UN 2030 Agenda for Sustainable Development, Sri Lanka was the first country to establish a separate ministry with the portfolio for sustainable development, and established the Sustainable Development Council, to ensure that Sri Lanka meets the Sustainable Development Goals, the President said.
Speaking on the caterpillar that caused destruction in many farmlands destroying over 80,000 hectares of corn cultivation within a period of one month, the President said three research groups from the Faculty of Agriculture of Peradeniya University, Sri Lanka, were able to find a solution to suppress the growth and control the spreading of the caterpillar. The President said that Sri Lanka is hosting the 18th Conference of Parties of CITES in Sri Lanka this May.