---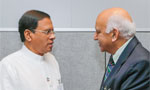 President Maithripala Sirisena, who met with Indian Minister of State for External Affairs M.J. Akbar in New York, US, said Sri Lanka and the fishermen in the North are concerned about the long term damage caused to the environment and the marine resources.
"Hence, an early solution should be found with the involvement of the fisher community," President said.
The President said the two Governments look at the fishermen issue as a human issue and whenever fishermen are arrested for illegal border crossing, the respective governments release them as early as possible.
They had also discussed the Kashmir issue and the President had said violence should be dealt with patience and dialogue is the only way to find solutions to such issues.
President Sirisena who met with the Indian Minister on the sidelines of the 71st session of the UNGA, expressed his condolences on behalf of the Government and people of Sri Lanka over the recent violence in Kashmir resulting in several killings.
"President further said that the region should collectively act to curb such violence and the Minister briefed the President regarding the situation that lead to the recent incident," the President Media Unit said.