---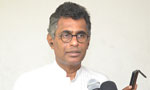 Megapolis and Western Development Minister Patali Champika Ranawaka today said he would not influence police investigations into the incident in which a jeep along with a driver attached to his Ministry met with an accident on Sunday night.
Addressing a function, he was responding to media reports about this accident which occurred on Sunday night.
The Minister said: "A jeep attached to the Ministry's vehicle pool is involved in the accident. Also, the driver of the vehicle is an employee of the Ministry. There are distorted media reports in this regard. We all know there was a motor vehicle exhibition at the BMICH in Colombo. After the event, a group of youths had travelled along the Parliament road in their motorbikes. The motorbike that collided with the Ministry's jeep has an engine capacity of 1000 CC. A bike with such an engine capacity is not permitted to be motored on roads in Sri Lanka. Yet, on that day, more than ten persons have sped on roads within a haphazard manner. One of them has collided with our vehicle".
He said the police had been entrusted with investigations into the incident, and he would not influence the process at all.
"We believe the police will do an impartial job. During the past few years, we witnessed youths riding high speed motorbikes on roads in a haphazard manner. There was a pause for it. Again, we are witnessing the same. We have not concealed any information. All the details have been given to the police. We, as law –abiding citizens, cooperate with the police and the court process," he said.
He said legal action could be ascertained through the court process.
Video by Sanjeewa