---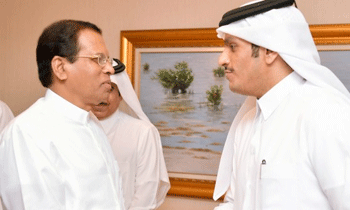 The Foreign Minister of Qatar had expressed his gratitude to President Maithripala Sirisena for being with the State of Qatar, when the country was facing difficult situations.
Foreign Minister Sheikh Mohammed bin Abdulrahman Al-Thani yesterday expressed these views upon meeting the President who undertook a State visit to Qatar.
President Sirisena, expressing his views said that Sri Lanka maintained a middle path foreign policy with all the countries in the world with a friendly and cooperative manner.
During the bilateral meeting, strengthening of the economic, trade and tourism ties between the two countries were discussed in detail.
The President apprised the Qatari investors and entrepreneurs about the new business and investment opportunities in Sri Lanka.
The Qatar's Foreign Affairs Minister said that he was confident that the visit by President Sirisena will contribute to further strengthening the close relations between Qatar and Sri Lanka as well as to build new relations which will benefit both the countries.