---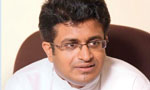 Responding to a question raised by a journalist regarding an accident that had occurred in Mirihana where a youth had been run over by a car allegedly driven by his wife on June 29, 2014, MP Udaya Gammanpila today asked those concerned to go ahead and take action against her if she has done anything wrong.
According to the extract from the Information Book of Mirihana Police Station, the youth, Basil Perera, had told the police that the driver of the car had fled the area without stopping the vehicle after hitting his motorcycle while attempting to overtake.
The victim had been admitted to the Teaching Hospital in Kalubowila with injuries.
However, the driver of the vehicle, Dinesha Shamali Dilrukshi, who is the wife of MP Gammanpila, had surrendered to the police 21 days after the accident and had come to a settlement with the victim. The matter ended there and no action was taken against her.
The accident victim had told the Mirihana police that amidst the rainy weather which prevailed at the time of the accident, he had recognized the female driver of the car.
However, Mrs. Gammanpila had told the police that she was not aware that her car was knocked over a motorcycle. (Piyumi Fonseka)
Video by Richan