---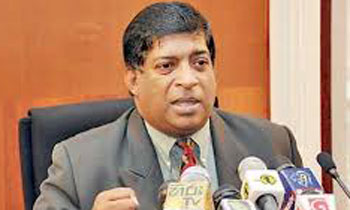 President Maithripala Sirisena should decide on Foreign Affairs Minister Ravi Karunanayake in the face of corruption allegations against him, the Joint Opposition said today.
Addressing a press conference on behalf of the Joint Opposition, former External Affairs Minister Prof. G.L. Peiris said it the President who had the power to appoint Ministers and assign subjects to them.
He said that it was the President who transferred Mr. Karunanayake from the Finance Ministry to the Foreign Affairs Ministry.
"This is something to do with the standards of credibility of his Foreign Affairs Minister. He is the interface between the Government and the international community," he said.
He said it was absurd for the Minister to deny any knowledge of his landlord and added that this could be regarded as an issue of trust.
Meanwhile, MP Udaya Gammanpila challenged the Government to bring in a No-Confidence Motion against Mr. Karunanayake considering the Parliamentarians as individual votes.
He said that the establishment of the Presidential Commission of Inquiry (PCoI) on the controversial Central Bank bond issue could be considered as an outcome of the struggle carried out by the Joint Opposition for two years in protest against the alleged scam. (Kalathma Jayawardhane)