---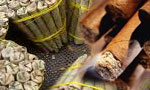 The Health Ministry will introduce pictorial warnings on beedi and cigars similar to the pictorial warnings on cigarette packets, Health Minister Rajitha Senaratne said.
"This is not an easy task because the beedi is small in size and cigars are wet and do not come in packets like cigarettes. However, we want to discourage the smoking of beedi and cigars as they are also harmful like cigarettes. After all, the government policy is to put an end to smoking and the use of tobacco," he said. "To further discourage the manufacture of beedi and cigars, the Government, in September, increased the import tax on tobacco for the manufacture of cigars and beedi leaves to Rs.3,000 a kilo from the earlier Rs. 2,000. This is in addition to the 90% tax on cigarettes."
The minister said 65 people die each day from smoking-related diseases while 200 die each day from tobacco and alcohol-related diseases.
"The Health Ministry spends Rs.4,500 million each year to treat patients suffering from smoking- related diseases and many of the victims are between the ages of 40 and 45, he said.
Commenting on the Health Ministry's efforts to control Non-Communicable Diseases (NCD), the minister said the government was also contemplating increasing the tax on sugar, salt and processed food. (Sandun A Jayasekera)