---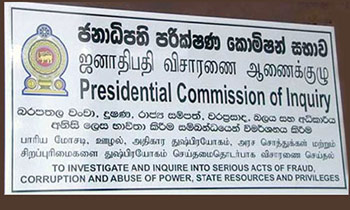 The reports on the investigations carried out by the PRECIFAC into three petitions including the the misappropriation of government funds at the opening ceremony of the Hambantota Port would be handed over to the President this week, sources said.
Several people including former minister Rohitha Abeygunawardena, former SLPA Chairman Priyath Bandu Wickrama and artistes Jackson Anthony, dancers and choreographers Channa and Upuli Wijewardene were questioned in connection with the misappropriation of funds belonging to the Sri Lanka Ports Authority (SLPA).
A spokesman for the Presidential Commission of Inquiry to Investigate and Inquire into Serious Acts of Fraud, Corruption and Abuse of Power, State Resources and Privileges (PRECIFAC) said the second report was on the inquiry carried out by the commission into the petition on the misappropriation of Sri Lanka Transport Board (SLTB) funds to pay salaries, allowances and privileges to employees recruited to the SLTB illegally and the misuse of a van.
The third report was regarding the inquiry into the misappropriation of funds allocated for the Road Network project of the Road Development Authority (RDA) to purchase a Land cruiser Jeep worth Rs.32 million. (Ajith Siriwardana)