---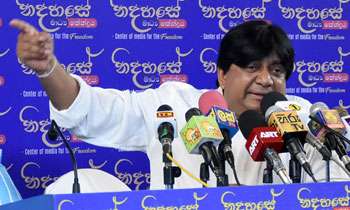 Three UPFA stalwarts today vowed that there will be no dissolution of Parliament, early Presidential or General election or a referendum to come over the current political and constitutional crisis and added however that the new government would do its utmost to hold the Provincial Council polls as early as possible.
Highways and Road Development Minister S.B. Dissanayaka, Parliamentarians Dilan Perera and Thilanga Sumathipala told the media at the 'Center for Media Freedom' that the Mahinda Rajapaksa government was determined to hold PC polls soon after attending to the issues related to delimitation and electoral system.
"I expect we would be in a position to hold PC polls in early 2019 after resolving the contentious issues related to delimitation and the electoral system," Mr. Perera said.
Commenting on the UNPs demand to convene Parliament immediately to check who has the confidence of the majority of members in Parliament Mr. Perera said the Speaker Karu Jayasuriya has no right to override President Sirisena's orders and Parliament would convene on the day decided by the President.
"Why does the UNP not seek the opinion of the Supreme Court if the President has violated the Constitution. Speaker Jayasuriya must end this 'nadagama' in Parliament and permit Parliamentary business without violating the Standing Orders. He has no right whatsoever to bypass the gazette notification issued by President Sirisena. Therefore, Parliamentary business on the 14th would be restricted only to the policy statement of President Sirisena. The party leaders will decide when to take up the no-confidence motion if there is any in the Order Paper he said.
Mr. Perera said the statement of Speaker Jayasuriya that he would adhere to the position that remained in Parliament before October 26, Mr. Perera asked whether Mr. Jaysuriya was confident that Mr. Wickremesinghe had the absolute majority in Parliament to maintain that position.
"Where are the 126 members who allegedly demanded him to reconvene Parliament. He never published their names. My opinion is that there were only 107 members at the meeting held in Parliament that day," he said.
Asked whether the government would apply all tricks to delay the no-confidence motion, Mr. Sumathipala said no and added it will take mostly five days.
"First, Parliament after the opening ceremony and policy statement of the President must elect a House Leader, Chief Whip and members to the Parliamentary Committees that also include the Business Committee or the committee of party leaders. Party leaders must decide on the day of the debate and vote on the no-confidence motion. I hope we could take up the no-confidence motion in five days after the opening ceremony," Mr. Sumathipala said. (Sandun A. Jayasekera)