---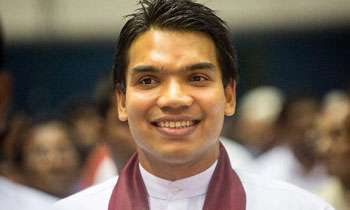 Only Field Marshal Sarath Fonseka was given the portfolio based on a scientific method at the Cabinet reshuffle, MP Namal Rajapaksa said today.
He said that the same people who called Minister Fonseka "Kalawadda" (Common Palm Civet) had given him the Wildlife Ministry.
He also said that Vijith Vijayamuni Soysa had given the portfolio of fisheries and aquatic resources development whereas he doesn't have any access to sea .
"The Government said that it will choose the Cabinet members on a scientific basis. A separate committee should be appointed to formulate a scientific criteria to appoint cabinet minsters."
He also said both the President Maithripala Sirisena and Prime Minister Ranil Wickremesinghe in future will say that the Cabinet was appointed by a committee and a separate committee will have to be appointed to determine the scientific selection process.
He said this exercise was a mere time consuming process in order to remain in power for a period of one and half year and it doesn't serve any purpose to the masses.
He said that it was wrong that if the Government is attempting to mislead the public by changing faces and portfolios of the cabinet ministers. (Thilanka Kanakarathna)