---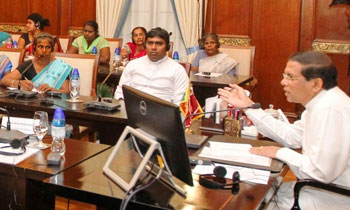 President Maithripala Sirisena yesterday held a discussion with the family members of the missing persons and assured them that there were no secret detention centers in the country anymore.
During the meeting held at the Presidential Secretariat, the President expressed his views regarding the allegations that some persons are being apprehended in government's detention centers.
"There are no such secret detention centers for the present government and no one is held in custody," he said.
The family members of the missing had presented their issues and demands to the President in detail.
President Sirisena said that he has a clear understanding regarding the issues faced by each community in this country and said that the government including he himself is committed to provide solutions to those issues in a very open and fair manner.
President Sirisena emphasized that his aim is to provide swift solutions for the issues faced by the family members of the missing persons.
He instructed to submit a new application through District Secretaries to obtain complains of the family members of the missing persons to collect their appeals as well as to collect their information.
He also instructed to issue a Circular to all District Secretaries stipulating to collect that information before December 15.
The President further advised to review information gathered through the Office of Missing Persons and the Missing Persons Commission.
The officials including the Secretary to the President, Austin Fernando and the Secretary to the Ministry of National Integration and Reconciliation Mr. Sivagnanasothy participated in this meeting.