---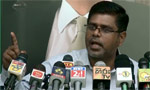 It is in no way possible to grant the demands made by the Government Medical Officers' Association (GMOA) that doctors' children be admitted to popular national schools, United National Party (UNP) MP Mujibur Rahaman told a media briefing yesterday.
He said if this demand was met then other professionals including teachers would ask for similar benefits for their children as well.
"In that case the children of ordinary citizens will be debarred from being admitted to such schools. Such preferential treatment to a certain section of society violates all norms of fair play and justice," he said.
He asked whether the GMOA was planning to create a class of super-rich people at the expense of the poor and the helpless by holding patients to ransom. (Yohan Perera)
Video by Richan