---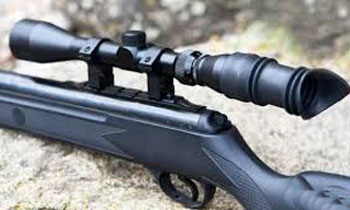 The government had approved the proposed new regulations to control the use of Air weapons in protecting cultivations from wild animals.
Addressing the Media at the Government information Department Cabinet Spokesman and Minister Gayantha Karunatilaka said using air weapons had been alleged to be used in hunting wild animals.
The proposal was made by Sustainable Development and Wild life Minister Gamini Jayawickreme Perera to implement new regulations.
The new recommendations as follows:
Examine the possibility of producing an air rifle with low power instead of present 0.22 mm rifle and encourage producing of an air rifle that can drive away animals by sound and regulation of issuing 0.22 mm air rifles and include them in Firearms Ordinance.
The proposed recommendations include following alternatives such as controlling animals through biological methods, limitation of using pesticides, use of modern scientific methods to control the damage caused by wild animals, use of traditional methods used in driving away wild animals by developing with modern technology, minimizing waste disposal in open areas that causes the attraction of wild animals, and Limit the importation of materials used in producing "Hakkapatas".