---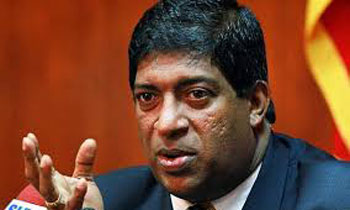 At least two or three MPs who were elected from the National List had drawn the United National Party (UNP) to its destruction, UNP MP Ravi Karunanayake said
He said that because of the minority parties that did not have voter base, the UNP had gone back to the point of no return.
While addressing media at a ceremony in Modara yesterday afternoon he said with this situation there should be a radical change in the party and that change should be done from the youth.
"There should be a procedure to protect the party members," he said.
"A lot of things need to be done for the backbenchers. The party should be restructured. We had made that statement earlier. The restructuring the party should be done, not only the in the UNP but also in other political parties as well.
"What former President Chandrika Bandaranaike did was the best example. She retired as President and again contested the Attanagalle electorate. She came third at the recent Local Government elections.
"She formed the Marapana Committee because of me.
"How can people, who have no mandate, take action against me who has no voter base? These are the things people laugh at.
"I have done a lot of work to the people. The whole country was insured through the National Insurance Trust Fund, introduced a special insurance coverage for school children.
"A concessionary loan scheme was introduced for low-income people and small, medium and large-scale entrepreneurs. Had taken steps to give tab computers to A/L students and teachers.
"Now, there are many people to claim the right to, which is like obtaining birth certificates to children of others," Minister Karunanayake said. (Chaturanga Samarawickrama)